we decided to end the experimentation in boyish long hair, and with that fox grew up three years in fifteen minutes.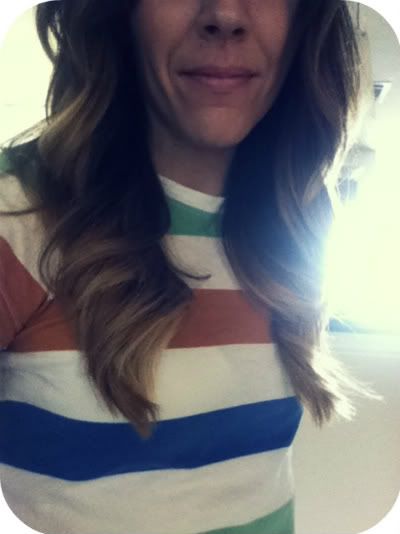 i touched up the ol' ombre' (thanks,
leighanne
!).
vintage children's table and chairs: dallas craigslist for the win.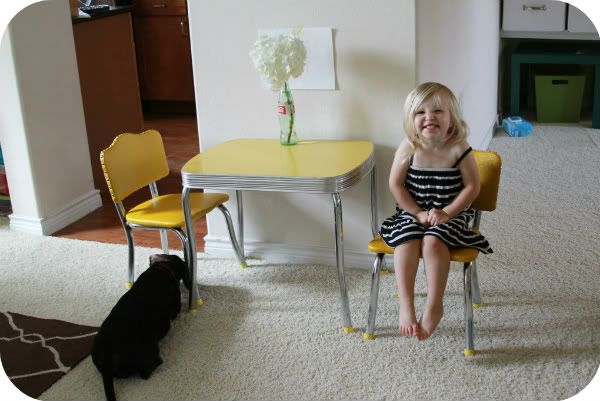 i had the chairs freshly reupholstered so the kids wouldn't get tetanus on some old staples, and now i need to remove a little rust. and i'm hoping one of you do-it-yourselfers will hip me on exactly how to do that. and pretty sure if you would have pinched indie's face at the exact moment this picture was taken, sunshine would have sprayed through her nose.
another craigslist victory. it doesn't really have a purpose other than being a perfect little reading stoop and being tiny and awesome.
okay, let's talk about moving. i think we just bought i house. "i think" meaning i have no idea how this process works, but we pointed to a house and said, "that one." so now i'm well on my way to owning a little piece of earth in elko, nevada, a town i've visited once. and despite how little i know about our new home, i feel really good about our (my?) decision, and so many things are falling into place and lining up quite nicely that i have to tell myself that it was meant to be.
and to wax philosophical, i really do believe this huge change of work/location/lifestyle was meant to be. i don't talk much about it on the interweb here out of fear that maybe one of you may be a psychopath, (but now that he's home for good!) but matt has literally been living in a hotel 4-5 days per week in houston or alaska or wherever for the past 19 months. it has not been, how you say? awesome? and i have had way more than my fair share of ugly cries and shameful mommy moments, but matt and i have both been blessed with loads of strength, and We Did the Dang Thing. and after a few months of having my husband home every night at a decent hour, i'm sure i'll look back at these dallas days like i look back at my manhattan carry-my-chubby-kid-and-his-stroller-up-numerous-flights-of-stairs-while-pregnant days and wonder how in the world i did this business. and then it makes me wonder what new muscles, physically and metaphorically, i'll develop while living in northeastern nevada. i'm anxious/terrified/pumped/uncomfortable/excited all at once.