iron & wine reminds me of winter in new york. when we moved into 1667 york ave apt 3N in december of '08, the previous tenants left behind a burned copy of iron & wine's "creek drank the cradle." we popped it in as we unpacked our lives into 800 square feet and put our 10 month old fox to bed every night in his bedroom with the brick wall. it became the soundtrack to falling in love with my new life and new city and new friends. i was seriously happy, and listening to that CD makes me feel like home (so thanks for leaving that behind, caitlin... do you need that CD back, BTW?).
this morning while chasing nekkid children and sort of feeling like a sorry sack, pandora spat out some iron & wine. i'd forgotten about and how much i love those songs and how much i miss feeling like "home." when will i stop talking about transition and dogs dying and blah blah blah? when will i just settle the heck down and make this feel like home? it's coming, i think; but for now iron & wine will help.
and if it doesn't help, i have potty training to distract me. girls are not easier. you are all liars.
does anyone blog anymore? did we all move to twitter? did i miss the memo? somebody better tell me, cos i still really like that gotye song, so it's obvious i'm totally clueless as to when something's been ridden till the wheels fell off.
things of note: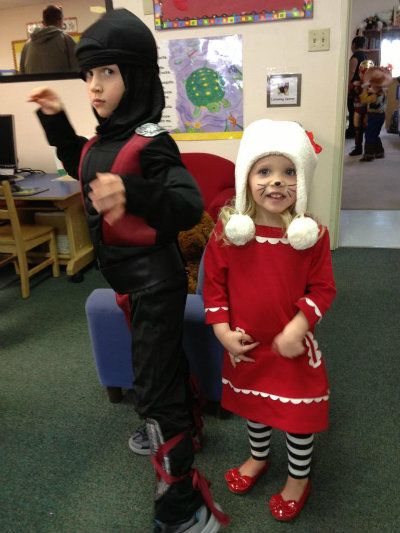 happy halloween, love the ninja from target and a cross between hello kitty and olivia (and i am once again recommitting to using my big camera more often)

as crafty as i got this year
and these are happening right now at my local kmart. this picture may leave you confused and uneasy, so i'll break it down for you: acid-washed, destroyed, button-fly pajama pants with a drawstring. the more i look at them the more i want to pull the trigger. friends, i need fashion courage.