it was a day. it started with an F-5 indiana tantrum that ended in vomit (and in her carseat, no less... it's her favorite place to lose it), and ended in a trip to run errands by myself after 7PM (which is a really rare, really good thing, but as i was in the dressing room i noticed that my nasty yoga pants had a hole in the crotch, and my mascara was everywhere but my eyelashes).
so these are happier times: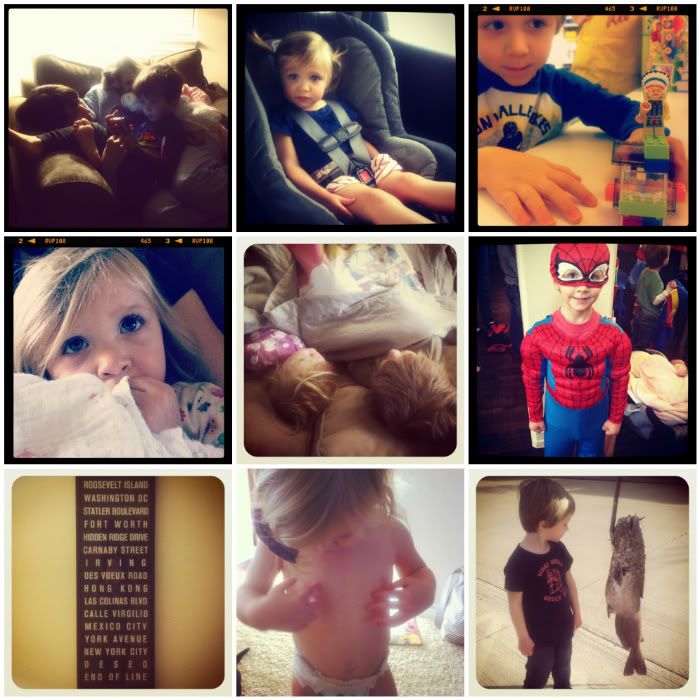 photos top to bottom, left to right: "khaki" and the kids, skirts in january, the legostore, post-tantrum, bedheads, spidey, burton family address roll sign, indie's self-discovery, and...
well, the last picture deserves more than a quip. while we were at the park yesterday, this guy comes up from the riverbanks (where the feral hogs loiter) with this honkin' catfish speared on a stick. i'm guessing from the crusted dirt all over the creature's scales that he put up a decent fight. "it's good meat," the fisherman claimed. especially if you like the taste of garbage, i thought. that river is about as sparkling fresh as a honeybucket. then after he let the kids gawk for a minute, the dude tossed his prize, stick and all, onto the bed of his pickup and headed home for the frying pan. so this is just a reminder for you to bring your passports when you come for a visit.